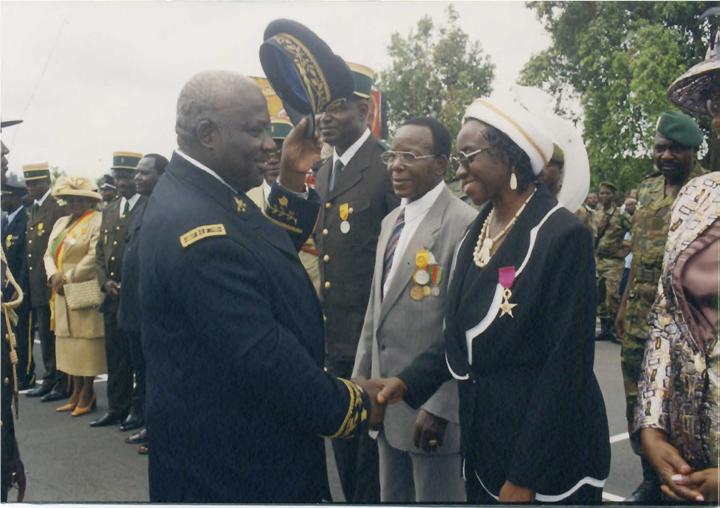 Biography of Prof. Theodosia Eyong McMoli nee Ojongtambia:
MBBS (Ibadan); D.Ophthal (London); FRCS (Edin.); FWACS. Ophthal (W. Afr.); FNMC.Ophthal (Nig.);
Cameroon National order of valour (2001); National order of Knights (2003)
Professor Theodosia Eyong McMoli was born on June 15, 1938, the first of 5 children. Her father was Mathias Ebot-Ebangha Ojongtambia, headmaster in the '30s and '40s (died 1950), and her mother was Susana Ebai-Nso, princess of the Oben royal family of Mamfe town (died 2007).

Prof McMoli's had an impressive educational career. From Government Primary School Mamfe (1946 – 1953), she went to Nigeria for secondary school: Queen's School Ede (1954 – 1958); Nigeria College of Arts, Science and Technology, Enugu (1959 – 1960); and then to the University of Ibadan (1961 – 1967) where she studied medicine and obtained her MBBS. Between 1967 and 1970 she customized herself with a physician's life by working in the Lagos University Hospital (LUTH) and the College of Medicine at the University of Lagos (CMUL) as House Physician (Paediatrics), House Surgeon, Senior House Surgeon (Gynaecology), Senior House Officer in Ophthalmology, Senior House Physician and Registrar, working all the time with renowned doctors and professors.

In 1971 Prof moved to Britain and registered into the Institute of Ophthalmology, London, where she obtained the Doctor of Ophthalmology degree at the first attempt (1972). Thereafter she did locum jobs as physician in several British hospitals: Moorefields Eye Hospital London; Guy's Hospital London; University of Wales Teaching Hospital Cardiff; and the Ipswich Hospital, Anglessa Road Wing, Ipswich, Suffolk. During this time she also attended a course in basic medical sciences organised by the Royal College of Surgeons of Edinburgh (Sept 1972) for the primary FRCS; and a revision course for the final FRCS (Ophthal) organised by the London Institute of Ophthalmology in London and East Grinstead (Oct 1973). In 1976 her hard work was crowned with success when she passed the final FRCS (Fellowship of the Royal College of Surgeons) in Ophthalmology.

Equipped with these excellent qualifications in medicine and especially ophthalmology, Prof McMoli spent the rest of the 36 years of her life (1977 – 2012) in clinical teaching and supervision of research projects for medical, nursing and laboratory sciences in university teaching hospitals in Nigeria and Cameroon: CMUL (1976 – 1986), LUTH (1976 – 1986), University Centre for Health Sciences (better known by its French acronym – CUSS) (1986 – 1994), Faculty of Health Sciences in the University of Buea (UB 1993 – 2005), and until her death at the Faculty of Medicine and Biomedical Sciences at the Cameroon Christian University (CCU), the new Presbyterian university whose main campus is in Bali, NW Region of Cameroon. She was pioneer Dean in UB and CCU. Prof Theodosia McMoli taught ophthalmology, but also ORL (head and neck surgery), primary health care, anatomy and physiology. She held key positions such as senior lecturer, chief and head of departments of ophthalmology and ORL (CUSS 1986 – 1994), Vice Dean (1993 – 1996) and Dean (1996 – 2005) of UB. She rose to the ranks of Associate Professor in 1986, and Full Professor in 1999. Throughout Prof organised seminars and workshops to undergraduate and postgraduate students and nurses; she was often the chief facilitator and resource person. She also taught the cycle B1 students in the Limbe School of Nursing, was consultant ophthalmologist in the Provincial Hospital Limbe and the District Hospital Buea. In 2005 she was consultant in the Acha-Bafoussam Eye Service, and also supervised the writing of a proposal for a one-year Diploma in Ophthalmic Nursing (DON) programme in Acha Annex Eye Hospital Bafoussam, on behalf of the Presbyterian Church in Cameroon (PCC).

Research activities were second nature to Prof Theodosia McMoli. Since the 1970s she researched on various aspects of the eye. Some of the topics are: acute primary glaucoma, the eye in malnutrition, visual acuity and other ocular abnormalities in Lagos drivers, ocular examination of premature babies on oxygen therapy, refractive factors in sickle cell trait, vernal conjunctivitis, the eye in the Nigerian diabetic, the cause of eye ache in African youth, and factors affecting prevalence of blindness in Cameroon. She also has an impressive lot of publications, more than 27, in national and international journals of medicine: Tropical Medicine and Internal Health, Revue Internal du Trachome et de Pathogie Oculaire Tropicale et Subtropicale, Annales Universitaire des Sciences et de la Santé of CUSS, the West African Journal of Surgery, British Journal of Ophthalmology, Annals of African Medicine, Nigerian Quarterly Journal of medicine, East African Medical Journal, Journal PAED Ophthal Strab, CUSS Medial Journal, International Journal of Dermatology, and others. She participated in several national and international conferences: 1989-1995 (March each year in Yaounde) Cameroon National Annual Conference on funduscopy; a WHO workshop on manuals for primary health care workers, Brazzaville Congo (1985); 1994 in Berlin, the 5th General Assembly of the International Society for Prevention of Blindness; Nov 1990 4th general Assembly of the IAPB (International Association for the Prevention of Blindness); April 1990 in Lome, Togo on prevention of blindness; 1998, 2000 and 2004: WHO NGO network annual conferences on community-based health personnel education in New Mexico, Bahrain and Atlanta – she had got Faculty (UB) registered as associate member in 1997. National conferences included that in Yaounde Hilton Hotel 1991; symposium on prevention of blindness and primary health care; in Maroua, 1993, on severe vision problems and use of vitamin A. Prof participated actively in the eye surgeries performed by ORBIS International USA (Flying Eye Hospital) at the Douala airport 1991-1993. She was external examiner in Ibadan (1983) for the West African College of Surgeons, and 1984 and 1985 in primary and final Fellowship examinations in Ophthalmology for FWACS. Even after she left CUSS for UB she remained the external supervisor for final year students' research projects. And she appeared twice (1988) on CRTV health programmes on common causes of blindness, redness of the eye and uses of spectacles.

Thus Prof McMoli's major interests were on the promotion of health care personnel education in consonance with current global practice. She was involved in the preparation of curricula for degree programmes in nursing, medical laboratory sciences and medicine. She took part in the on-going national plans for prevention of blindness; she contributed towards improvement of national health care plans and systems; and she was also involved in recent health care reform proposals by Benchmarks Systems under the auspices of the Cameroon Ministry of health.

Prof McMoli's was member of Queens School Old Girls' Association, Nigeria; member of Cameroon Medical Women's Association; member of West African College of Surgeons; member Cameroon national Medical Association; Adviser Cameroon Ophthalmology Society; Vice-President Cameroon National Committee for Prevention of Blindness. She was a very active member of the Christian Women Fellowship (CWF), president and patroness of the Temple Choir, and member of the Presbyterian Health Board. She was active in cultural and traditional groups, for which she received recognition by the EFOKOYU in Mamfe on May 21 2011. Above all Prof McMoli was a genuine practicing Christian, always reading and meditating on the bible, praying continuously by herself and with others and encouraging others to get closer to God. In 2006, after retirement, she did an online course in Theology for her own personal spiritual growth. She was goodness, kindness and simplicity personified. Unfortunately genuine goodness is threatening to people at the opposite end of the moral spectrum.

Prof Theodosia Eyong Mcmoli died on June 5 2012. She had been married to Lucas McMoli in 1968 but the marriage ended in a divorce in 1998. She is survived by her two sons and their wives, Fritz Malafa and Marie, Ojong Mosima and Margaret, sisters, brothers, nephews and nieces, cousins, colleagues and collaborators, friends and well wishers to mourn her.

(By Faustina Egbe Yembe – sister)